Dr. Sherri Tenpenny's
"5 Docs Summer Boot Camp"
Get ready to take control of your health and take it to the next level with our exclusive Summer Boot Camp! This unique presentation brings together your favorite five doctors to discuss post-pandemic health strategies that will help you get there. Our Boot Camp will provide guidance on a wide range of topics, in ways that only the 5 Docs can. If you've been a fan of the 5 Docs Zooms, you will not want to miss this Boot Camp featuring exclusive material not seen anywhere else!
Designed to fit perfectly into your busy schedule, our Summer Boot Camp is the ultimate way to connect with the 5 Docs and the material they feel is most important for you in your post-pandemic life. Each doctor will be hosting their own week, delivering exclusive information to help you navigate your health moving forward. THIS IS A 6 WEEK BOOT CAMP with a LIVE EVENT (provided via Zoom) EACH WEEK.
So why wait? Sign up for our Summer Boot Camp today and take the first step towards a healthier, more secure you!
THE EXCLUSIVE 6 WEEK BOOT CAMP SCHEDULE IS:
Week 1 – Dr. Lee Merritt presents "Ethics of How We Got Here and the History of Modern Medicine"
Live Event with Dr. Merritt is scheduled for July 6, 2023 at 8:30 pm (Eastern Time)

Week 2 – Dr. Carrie Madej presents "How to Live Healthy" featuring "What is a healthy diet?", Farming, ranchers, EMFs, and more.
Live Event with Dr. Madej is scheduled for July 13, 2023 at 8:30 pm (Eastern Time)
Week 3 – Dr.  Larry Palevsky presents "Becoming Your Own Healer" featuring home remedies
Live Event with Dr. Palevsky is scheduled for July 20, 2023 at 8:30 pm (Eastern Time)
Week 4 – Dr. Christiane Northrup AND Dr. Larry Palevsky present "Maternal & Child Healthcare in the 21st Century" featuring homebirth, cord clamping, avoiding CPS, RhoGAM, and more.
Live Event with BOTH Doctors is scheduled for July 27, 2023 at 8:30 pm (Eastern Time)
Week 5 – Dr. Sherri Tenpenny presents "Exiting the System" featuring disconnecting from insurance dependence, Osteopathy & other systems of healing such as Chinese Medicine, Ayurveda, and more.
Live Event with Dr. Tenpenny is scheduled for August 3, 2023 at 8:30 pm (Eastern Time)
Week 6 – ALL 5 DOCTORS present a ROUND TABLE DISCUSSION LIVE with Student Questions (Scheduled for August 10, 2023 at 8:30 pm)

BONUS!
All students who register for the Summer Boot Camp will be given FREE access to an additional presentation from Dr. Merritt at the end of Boot Camp! This presentation material will be "Information Warfare & Symbolism." You don't want to miss it!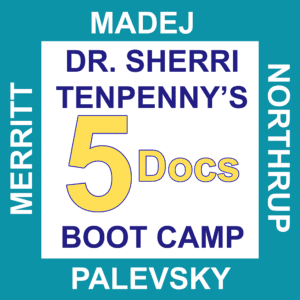 * Please note that all schedules are subject to change and we reserve the right to do so without notice. Registering for a course of boot camp on this site means that you agree with our Terms.