Week 4 Zoom is BEING MOVED TO WEDNESDAY, NOVEMBER 3
In the meantime, Week 4 materials will start to be posted in the portal tonight and tomorrow so you can begin to view videos and read a few things in anticipation of next Wednesday. This DOES MEAN that there will be a Boot Camp Zoom on BOTH Wednesday AND Thursday of next week. (We're just doubling-up next week.) Enjoy your Halloween weekend!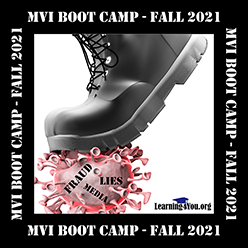 When we edit the date and time at Zoom you will also get notification from Zoom via email of the change if you are already registered. We appreciate your patience with this!
Don't worry... as always, the Zoom webinars are recorded and you can view at your leisure if you cannot attend "live".
I am also looking for about 5 people to come onto camera on Wednesday night with one question, each, regarding something in the topic... security, privacy, vaccine strange phenomena, etc. Send an email to help@learning4you.org and use the subject "I WANT TO BE ON CAMERA" and we will reach out to you!

IMPORTANT INFORMATION FOR WEEK 4

FORUMS FOR DISCUSSION ARE NOW OPEN AND ACTIVE

Each week has TWO links for discussion. We provide separate sub-forums for you - One is specifically for the Week's topics and the other one is specifically for chat related to the Thursday Zoom. Follow the link below to discover the forums! (Must be logged in.)


TROLLS WILL NOT BE TOLERATED AT ALL!

You've been around the "internet block" as much as we have and you know what we mean. However, to clarify, if you are attempting to disrupt any part of our Boot Camp by emails, solicitation, harassment, vulgarities, insults, or otherwise within the class portal, Zoom chats, online forum discussions, etc... WE WILL BAN YOU AND YOU FORFEIT YOUR FEES PAID TO US. PERIOD. NO EXCEPTIONS. TROLLS HAVE CAUSED US TO REQUIRE REGISTRATION FOR ZOOM. THIS SIMPLY MEANS YOU NEED TO HAVE A ZOOM ACCOUNT TO SIGN UP FOR OUR THURSDAY ZOOM. THE ACCOUNT IS FREE.


Some Videos and Materials will incorrectly reference a "week" or talk about a "module". ANY FREE BONUSES MENTIONED in those old videos have expired!

Rather than recreate an entire video series, we have opted to use videos from the LAST boot camp for some of your course material. We're constantly reworking and rebuilding our Boot Camp, so changes have happened in the final form from the time these videos were produced.
Remember, you are getting the BEST BOOT CAMP EXPERIENCE, YET.
Getting HELP is EASY!

We've spent a lot of time and effort and expense to ensure that we have a whole team in place and a method for you, as a student, to get in touch with us and get our attention with your technical issues. The EASIEST way to make that happen is to send an email to help@learning4you.org or by visiting the HELP DESK at the link below.