REGISTRATION IS OPEN NOW!
BOOT CAMP STARTS APRIL 4, 2022
Prepping & Canning Boot Camp
Over the years of providing our famous MVI Boot Camps, we've found it necessary to include conversations about being prepared "for the worst". It's an important discussion that always seems to go hand-in-hand with not only being an activist, but also just a normal person trying to navigate these difficult times.
At the conclusion of our last boot camp, we asked YOU what YOU wanted most from us if we hosted another one. The answers were all in agreement… overwhelmingly our students WANT A PREPPING AND CANNING BOOT CAMP.
WE LISTENED!
Now is the time for you to get it together and start prepping. The global situation is NOT getting any better and the world is on a tipping point that could take us into disastrous territory at the blink of an eye.
BOOT CAMP STARTS APRIL 4, 2022 and SPACE IS LIMITED!
… or scroll down to learn more!
ANNOUNCING OUR
INTENSIVE 4 WEEK PREPPING & CANNING BOOT CAMP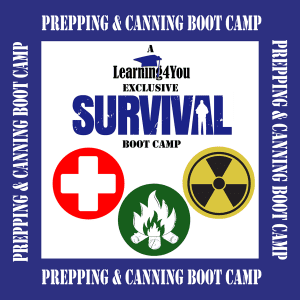 BOOT CAMP STARTS APRIL 4, 2022!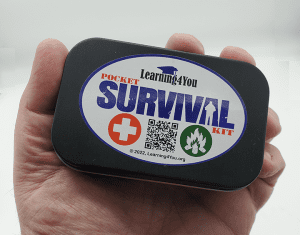 THE BOOT CAMP SCHEDULE
EVERY WEEK HAS A LIVE ZOOM CLASS!
WEEK 1:
Welcome to Boot Camp
Survival & Prepping Basics
Food Storage and Preparation
Thursday Zoom
WEEK 2:
Sh!t has hit the fan! Now what?
Survival Kit Basics
Shopping for the End of the World
Psychology of Survival
Pressure Canning
Thursday Zoom
WEEK 3:
Survival Security Basics
Know and expand your local network
Collecting & Organizing Important Information
Secure Communications
Survival Kit Security Integration
Thursday Zoom
WEEK 4:
Survival and Prepping Advanced Situations
Natural Treatments / Essential Oils
Pets / Little Children
Elderly
Survival Fallacies and Warnings for Best Practices
Money and Cryptocurrencies for the End of the World
Thursday Zoom
All Boot Camp Students will have access to our lively online Forum dedicated to the Boot Camp where students LIKE YOU can interact with each other and the Learning4You staff.
Boot Camp Students will have exclusive access to content that is ONLY available inside the Course Portal.
You will have 1 YEAR of access to your Boot Camp Course and Materials. After that, you may retain your access for $65/year.
Students will have "homework" assignments each week that we strongly encourage you to participate in to enhance your Boot Camp Experience
*Coupon will be awarded electronically to all registered Boot Camp students and is not transferable to anyone else. No cash value, bonus must be applied to a course. Coupon CANNOT be used for a Boot Camp or Bundle.
**To receive your FREE "pocket survival kit", you must be 18 years old or older and you must reside in the Continental United States or Canada. Please allow 4 to 6 weeks for delivery. However, if you are a foreign student and among the first 15 to register, we may be able to ship to you. We will reach out and determine eligibility and shipping charges. In lieu of the free kit, if it cannot be sent to you, we will offer you a second course coupon as above.
We reserve the right to modify, eliminate or otherwise change any or all of the bonuses outlined on this page.