Welcome to the FALL 2021 BOOT CAMP

Please excuse the dust while we move everything into place and welcome you all into the course...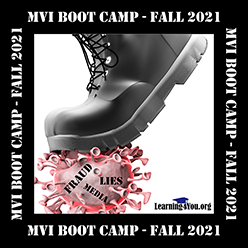 Dr. Sherri Tenpenny and her team welcomes you to the first week of the Fall 2021 MVI Boot Camp! This is the course you have heard about and we're glad you signed up. We're certainly living in interesting and trying times and this course couldn't be more important than it is today.
IMPORTANT INFORMATION FOR YOU AS A STUDENT

YOU MUST BE LOGGED IN AT THE SITE TO SEE THE COURSE

If you are experiencing a situation where you click on a link from one of our system emails to access the Boot Camp or any other course and it says you are not enrolled, then YOU ARE NOT LOGGED IN! please login at the link below to proceed.


Weekend Materials Release is USUALLY on the Saturday BEFORE, but...

Things happen and we are constantly juggling against site attacks and user issues to provide you the best experience possible. Be assured, you WILL get notified if there is a serious issue that needs further attention. Please be patient!
TROLLS WILL NOT BE TOLERATED AT ALL!

You've been around the "internet block" as much as we have and you know what we mean. However, to clarify, if you are attempting to disrupt any part of our Boot Camp by emails, solicitation, harassment, vulgarities, insults, or otherwise within the class portal, Zoom chats, online forum discussions, etc... WE WILL BAN YOU AND YOU FORFEIT YOUR FEES PAID TO US. PERIOD. NO EXCEPTIONS.


Thursday Night ZOOM events are at 8:00 pm Eastern Time.

Remember, ALL of these events are recorded and posted to watch AFTER the event. (Usually within 48 hours). We have limited seats for these events, so, register within the Course for the corresponding week when your course materials are released.


Some Videos and Materials will incorrectly reference a "week" or talk about a "module".

Rather than recreate an entire video series, we have opted to use videos from the LAST boot camp for some of your course material. We're constantly reworking and rebuilding our Boot Camp, so changes have happened in the final form from the time these videos were produced.
Remember, you are getting the BEST BOOT CAMP EXPERIENCE, YET.


Getting HELP is EASY!

We've spent a lot of time and effort and expense to ensure that we have a whole team in place and a method for you, as a student, to get in touch with us and get our attention with your technical issues. The EASIEST way to make that happen is to send an email to help@learning4you.org or by visiting the HELP DESK at the link below.