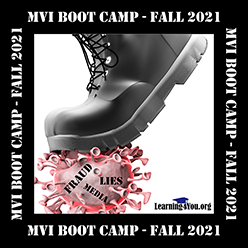 We know, we know!

You expected us to be using CloutHub for our Thursday "interactive" sessions, especially because Dr. Tenpenny mentioned it inside interviews, etc. However, we at MVI/Learning4You have learned to be FLEXIBLE and FORGIVING when it comes to our health freedom messages and the internet. We LOVE CloutHub so far... they just haven't built all of the bells and whistles WE WANT into their offering.

In order to keep this Boot Camp to schedule and to move forward, we ARE using Zoom for this week and next week (and possibly further) unless we notify you otherwise.

WHAT DOES THIS MEAN FOR YOU?
Nothing, really. Inside EACH WEEK'S PORTAL of the Boot Camp Course, you will find a tab/page that has your Zoom invitation information to sign up and register to attend. If you haven't done so, GO THERE NOW and get signed up for the session. (You have to be logged into your Boot Camp Course to see the invitation!)

Remember, we have a ZERO TOLERANCE POLICY WITH TROLLS and Cookie and the Team are ready to pounce. YOU WILL BE BOOTED AND BANNED if you are causing issues for the class in any way.

This first week is a very special week. You get the welcome night and an open discussion hosted by Dr. Sherri Tenpenny and Matthew. The first week of Boot Camp is always a tad chaotic, and you'll hear all of your class updates in the Zoom session.

If you are STILL having any issues logging into your course, PLEASE email help@learning4you.org and let our team know.

Rest assured, all of the Thursday sessions are recorded and posted within your Boot Camp portal for viewing later... especially if you could not attend. We will attempt to use the built-in Zoom Closed Captioning services when possible for any of you needing accessibility options.
We have used Zoom for YEARS with no issues. So, we are confident in the use for now. So, bear with us and JOIN US THURSDAY!

Thank you,
Dr. Tenpenny, Matthew, and the L4Y Team
Copyright 2021, Learning4You, Requeza, LLC